The finish on furniture can break down after a long period of use, and it is time to repaint it. A good furniture paint sprayer will quickly help you get a brand new piece of furniture. It has also been a popular painting tool for DIY enthusiasts and professionals for many years.
There are many types of paint sprayers on the market, with different functions and capabilities. You may be confused as to how to shop for one. The guide below will explain the best furniture paint sprayers in detail and help you make the right choice.
Advantages of furniture paint sprayers
Brushes and rollers can also paint furniture, but they produce an uneven surface and are time-consuming. The best paint sprayers not only give a perfect finish but can also increase efficiency by 2-5 times. For some tight corners, the paint sprayer can also cover them quickly.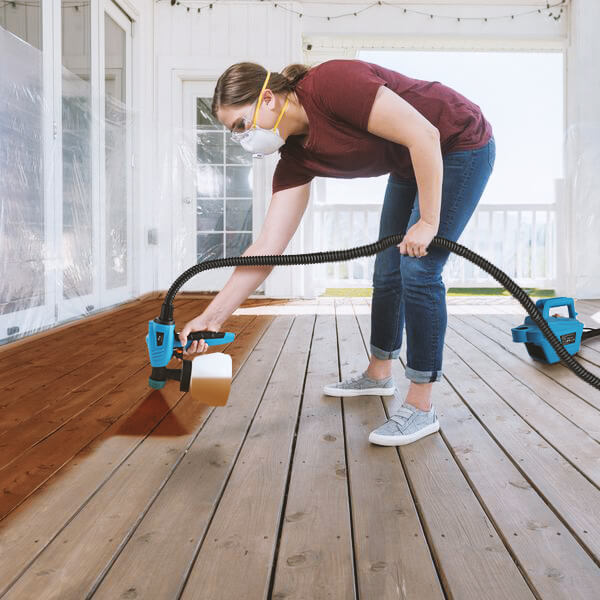 Factors to consider when buying the best furniture paint sprayer
Weight of the paint sprayer
Painting furniture is a time-consuming affair, and you will need to hold the sprayer for a long time, so the weight of the sprayer is a point to consider in the buying process. Heavier paint sprayers can be inconvenient to move around and affect the efficiency of the spraying.
However, a lighter paint sprayer means a smaller container can, which you may need to work with over and over again. It would help if you chose the suitable paint sprayer for the area of furniture you are spraying. If the area is large, you can choose a paint sprayer with a slightly larger container.
The power of the paint sprayer
The power of the paint sprayer affects the efficiency of the spraying. The more power you have, the more paint you will spray and the quicker you will finish the job. The choice of power depends on the size of the furniture you are spraying. High-power paint sprayers are suitable for spraying fences and walls. Low-power paint sprayers can be used to spray more miniature furniture. Most paint sprayers have an electric sprayer power range of 450 to 800 watts.
Nozzle of the paint sprayer
The size of the nozzle determines the amount of paint that can be sprayed. A nozzle that is too large may overspray, and one that is too small may cause clogging. Choosing the right size will help you achieve a smooth surface.
Oil and latex paints are thicker and require wider orifices between 0.013 and 0.019. Adhesive enamels and primers require more extensive tips, ranging from 0.025 to 0.035.
Easy to clean
Cleaning paint sprayers can be a tiring task. Some paint sprayers have adapters attached to a hose for cleaning, which is very convenient. Some paint sprayers are supplied with a cleaning brush so that the nozzle can be scrubbed at any time.
Accessories
Accessories can provide additional functions. For example, some paint sprayers come with an auxiliary nozzle that turns the tool into a blower. You can use this to blow off the dust from the work surface.
The best furniture sprayer — Tilswall HVLP Paint Sprayer
This handheld sprayer is excellent value for money and is an excellent choice for restoring any furniture. It features an ergonomic split design with the spray gun handle separated from the motor, which significantly reduces hand fatigue and allows for more talent in the hand while working. The high-quality 2.5 m hose and 3 m / 9.84ft cable allows for more accessible and comfortable operation, regardless of cable length.
Tips for spraying furniture with a paint sprayer
Before you start spraying, please practice a few times on a scrap board to adjust the amount of spray to achieve the best spraying results.
Keep an exact distance and do not swing the spray gun to achieve even coverage.
If an irregular coating is created during the spraying process, smooth it out before the paint dries.
The paint spray gun should permanently be moved parallel to the surface being sprayed at a vertical angle, maintaining an equal distance. Each spray mark should overlap the previous one by one-third.
The gun should be moved at a speed of 30 cm to 50 cm per second, slightly faster if the spraying distance is close and slightly slower if the spraying distance is farther. If the gun speed is too fast, it will paint too dry, rough a surface, and produce orange peel. If the gun speed is too slow, sagging and dropping can occur.
Conclusion
Choosing the right furniture painter is not easy and will take time and effort to identify. HLVP paint sprayers are ideal for small furniture applications and will not cause over spray.