Innovation is the internal driving force of TILSWALL. Our power tools are safer, more durable, better designed, and lighter which enable you to create a beautiful home.

As of July 23, 2023, our high-quality power tools including spray guns, drills, grinders, soldering stations, polishers, glue guns, and more have been utilized by 1,124,833 users across 14 countries worldwide to create beautiful homes. Whether it's renovating houses, repairing fences, cutting and welding metal, DIY furniture or gifts, bathroom cleaning, and more, TILSWALL's power is here to assist you in building a better home, whether you're a DIY enthusiast, a professional contractor, or a carpenter.

At TILSWALL, customer satisfaction is at the heart of everything we do. It is not merely a metric, but a guiding principle that fuels our passion and drives us to improve and innovate in our power tools.

Let's take a look at the global users' feedback and what they are using TILSWALL's power tools for.
Was a breeze to paint intricate feature wall
"I bought this as I had planned on building a feature wall and knew paint it using a brush would be a nightmare. First off, I masked off the surrounding walls and ceiling approx 45cm worth. Using an angled brush I quickly cut into all the tight spaces I had to paint (but if I'm honest, the paint gun may have gotten in there anyways) As I was using a thick deluxe paint, I watered it down by 10% which is the manufacturers recommendations. This was thin enough to be sprayed out with the medium nozzle. The paint comes out as a very controllable rate even at full trigger, after applying a wet coat, I followed by 2 further coats and the wall was left to dry. The finish is great, smooth stipple effect like you with a decent roller.Cleaning up was easy using the included brush and disassembling the various parts. We'll pleased with its performance and would recommend this gun for decent thick paints."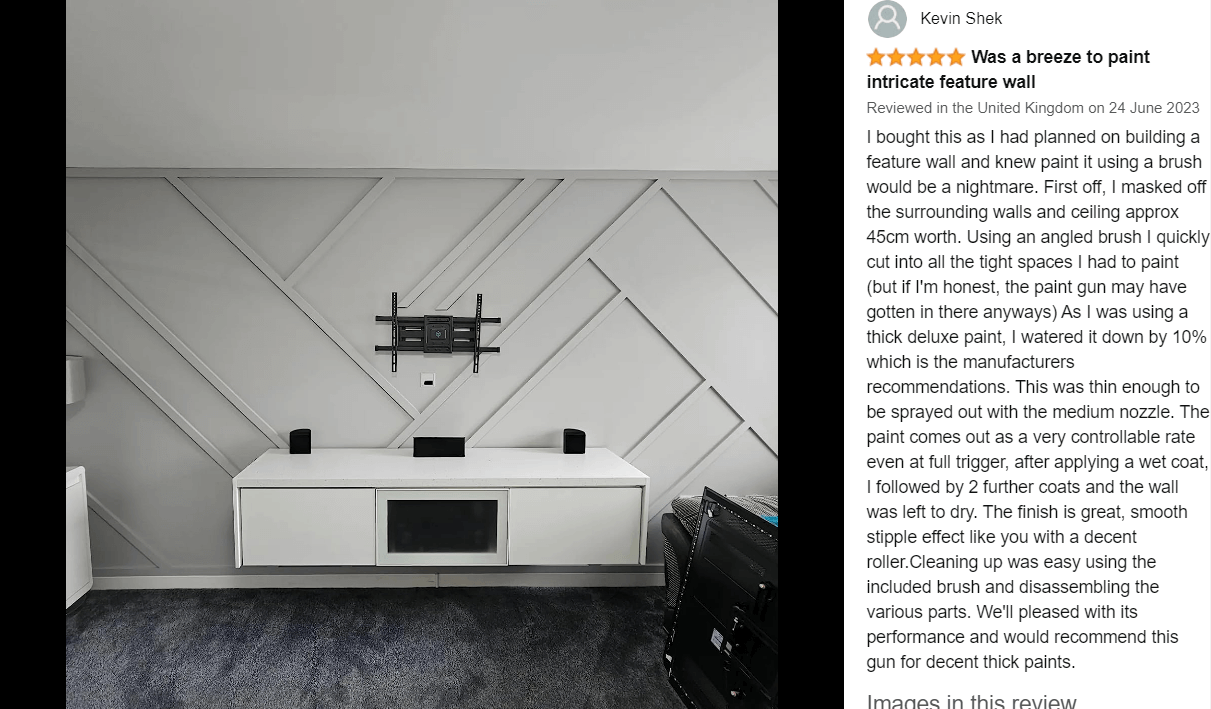 Infrared thermometer for all your measurements!
" I bought this infrared thermometer for my cooking and DIY activities, and I must say that I am very satisfied with my purchase! It is easy to use and accurately measures temperature from a reasonable distance. The measuring range is very wide and can even measure temperatures that are difficult to touch. Personal Opinion: I find this infrared thermometer to be very useful for my cooking and DIY activities. It accurately measures temperature. Tip: I recommend this infrared thermometer to anyone looking for a reliable and accurate tool for their kitchen and DIY. It is also very useful for monitoring electrical systems, machinery and automobiles. Value for Money: I find the price of this infrared thermometer to be very reasonable considering its features and quality. It can easily become a valuable life assistant for all your activities. Give me a "helpful" if you find my review helpful for your buying."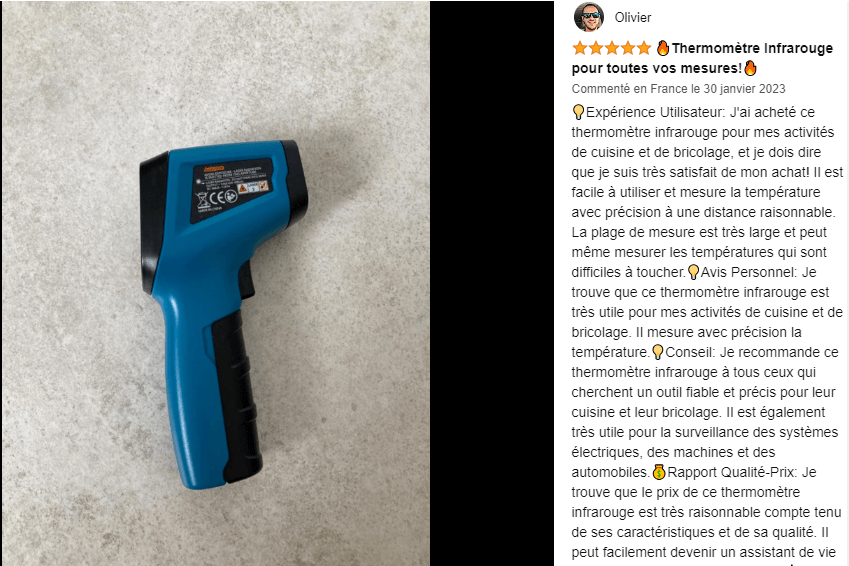 Works well
"With this universal tool you can do many things by yourself at home. Some examples: Cutting, drilling, grinding, milling, sharpening, cleaning, polishing or even engraving. The workmanship of the multifunctional tool is impeccable, there is nothing to complain about. The machine also feels comfortable in the hand, you can operate it properly. The scope of delivery includes, among other things, a flexible shaft, with the help of which it is feasible to do fine work without hassle and frustration, because you can put the tool down. The included various attachments allow you to start directly, you do not have to buy them separately first. By the way, the attachments can be easily exchanged after a certain time with the appropriate practice, but in the beginning I had to find my way around first, that was not a matter of course. It is also possible to attach a handle, which has an integrated light. In many an operation, this is useful. Last but not least: The speed can be regulated continuously with the help of a wheel."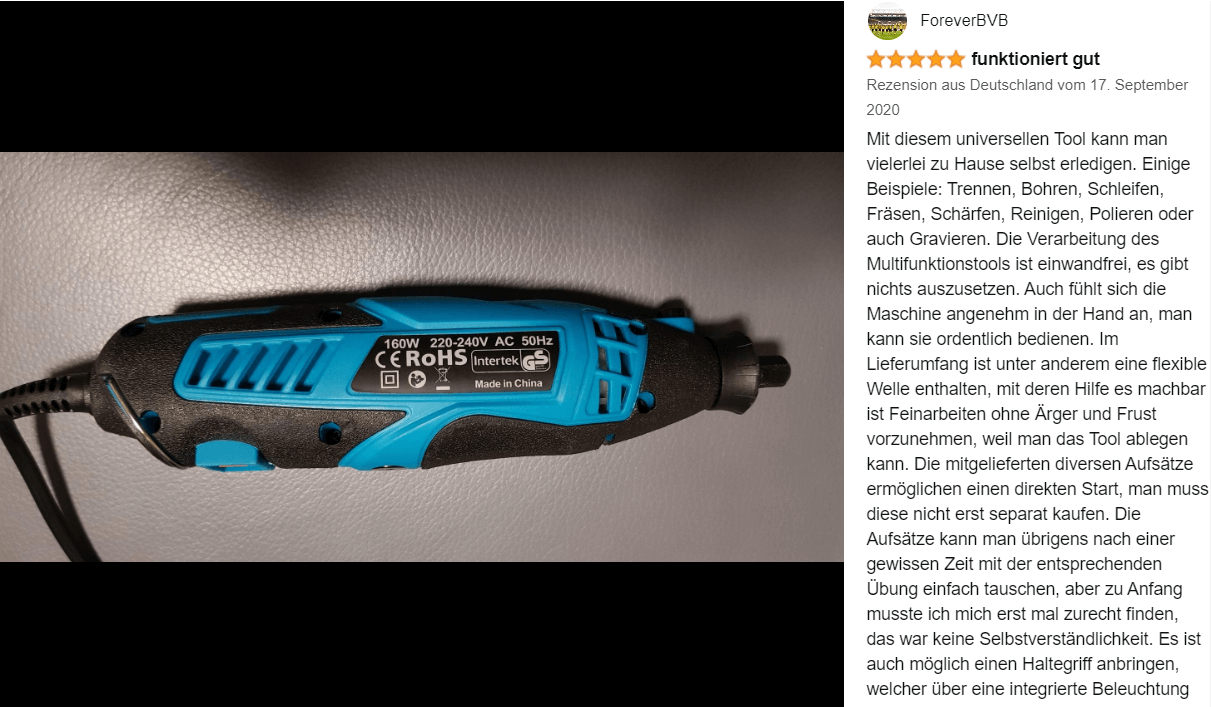 Handy and powerful grinder
"I purchased this angle grinder to do small do-it-yourself jobs. I use it mainly for cutting and grinding iron, and sometimes I use it with a diamond blade to etch concrete. It is very handy because of the narrow handle and light weight, and you don't get fatigued even when having to do demanding work. The performance of this power tool is above the average of the more commercial competitors I considered. In the box I found 5 125 mm diameter discs (3 for cutting and 2 for grinding); 2 splinter guards; 1 additional handle to screw onto the body of the grinder; a wrench to tighten the discs; and spare brushes. I would have appreciated the presence in the kit of a hard case in which to store everything; it would have been useful both for transport and for storage in the workshop. The product is good, it met my expectations. P.S. I highly recommend using it in conjunction with gloves and goggles."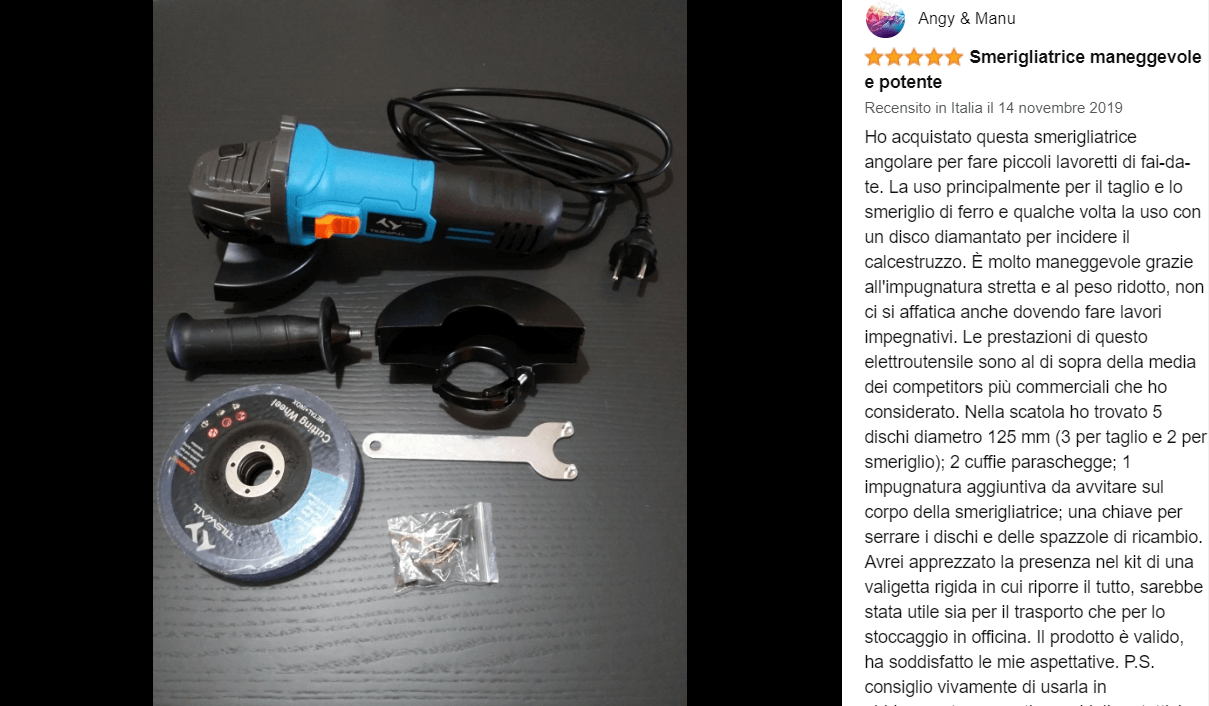 Effective
"Good tool, I liked fundamentally 3 aspects:-That it weighs very little and does not tire your hand after a while holding it-The adjustments of both heat level and air flow through the top buttons-The forced ventilation that has to turn it off, so that the only refrijere before shutting down completely and thus avoid unpleasantness."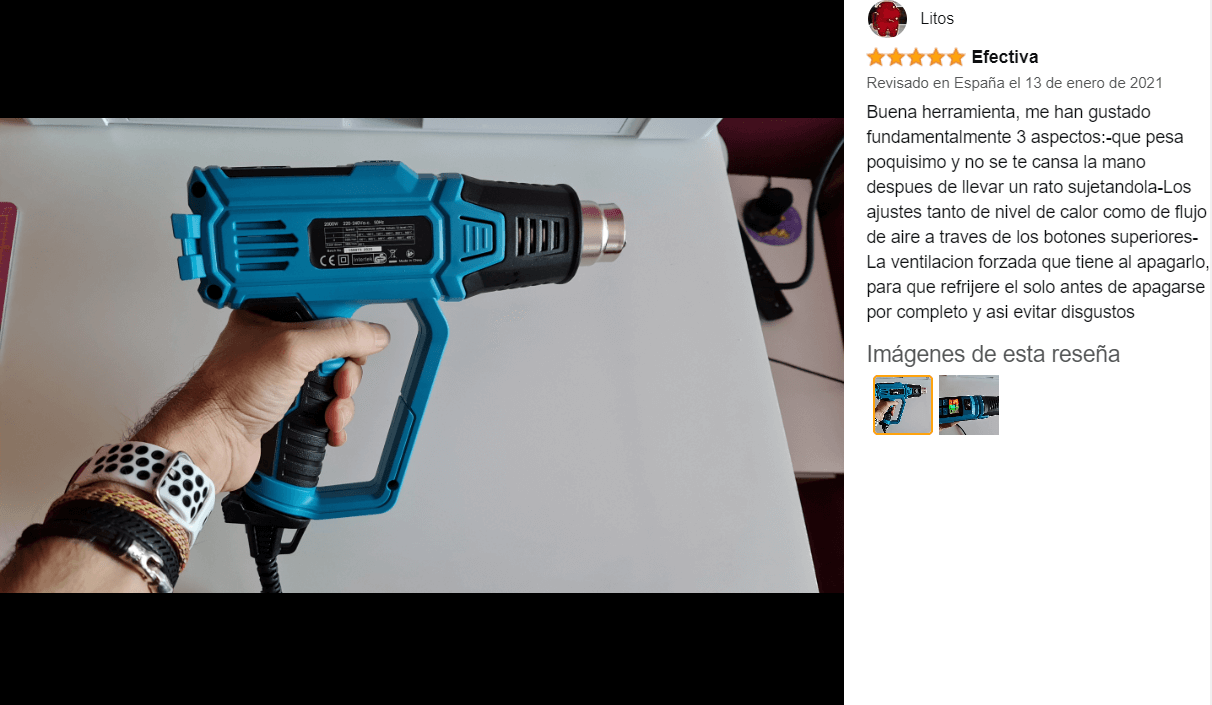 This is the perfect soldering iron!
"I have been needing another soldering iron to use and this is a really nice setup. It comes very nicely packaged and has everything you need to start soldering. I have already told a few friends to get one of these. The knob on it to change the heat is great and makes using it very easy."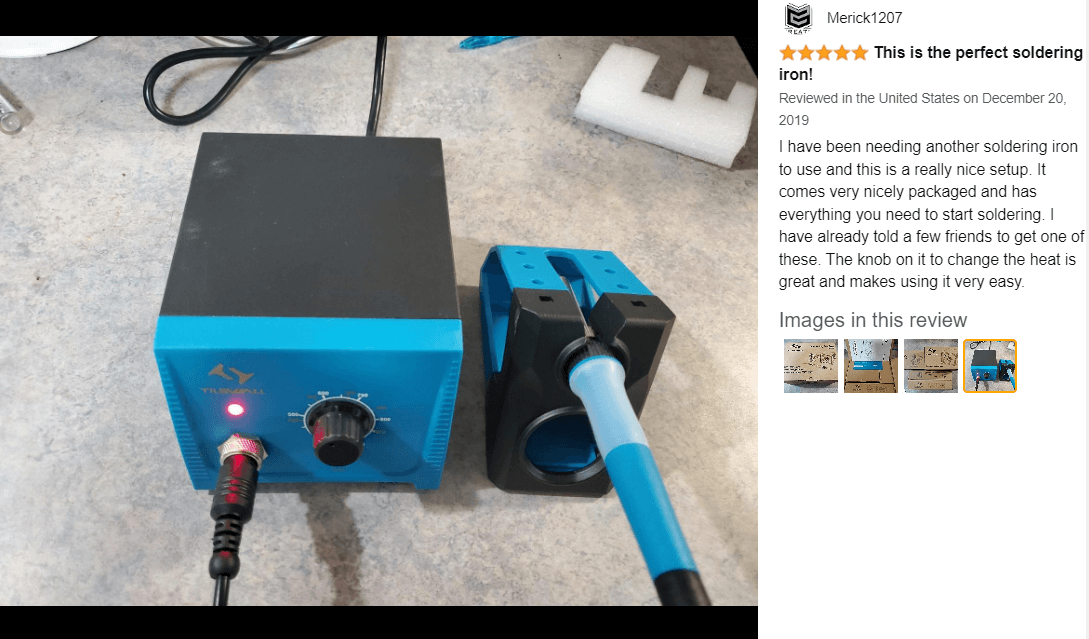 The perfect hot glue gun for all crafters
"I got this glue gun because I loved the fact it has a base to keep it upright while crafting. It comes up to temp very quickly and doesn't drip some glue guns I've had in the past. It turns red when it needs more glue and green when it's ready, and the stick lasts a good while, too. Another great feature is the automatic glue loader, it just sucks in the glue stick so easy. No more holding it, balancing it, and trying to press it in until it fits like the old traditional glue guns. This has really made my card crafting a lot easier and I would recommend this to anyone, it's time to upgrade!"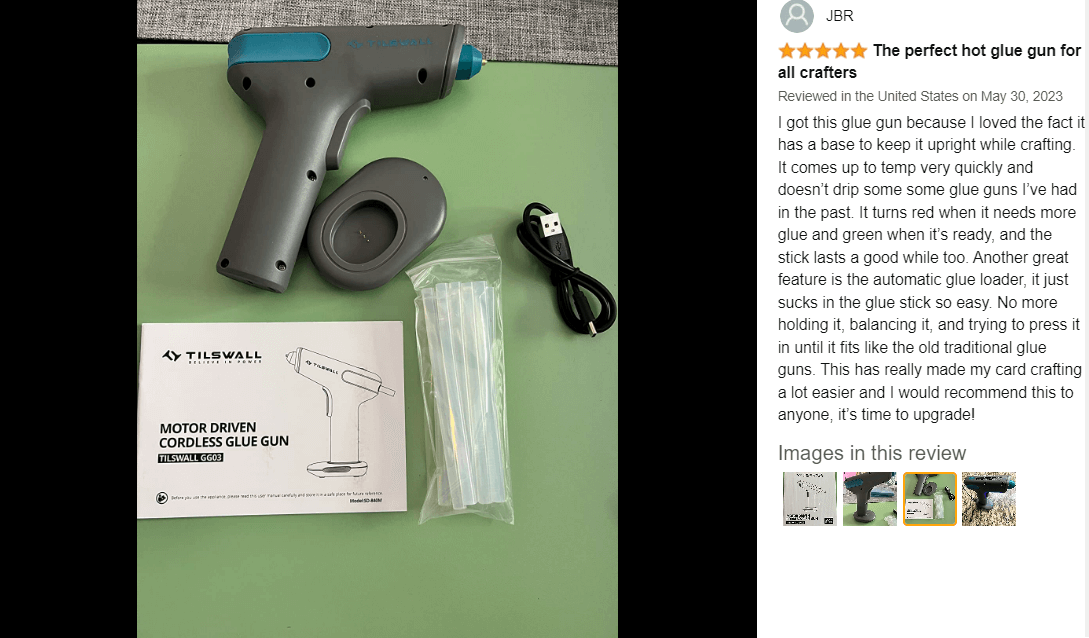 TILSWALL's power tools have garnered positive feedback from users worldwide. Customers have praised the quality, reliability, and performance of our tools, highlighting their effectiveness in various applications. From construction professionals to DIY enthusiasts, users have found our tools indispensable for a wide range of tasks.
We are proud to be a part of their projects and contribute to the creation of beautiful homes and successful endeavors.Our mission is to build beautiful homes for global citizens.
We are TILSWALL. Believe in power!