Cleaning the floors and bathrooms of your home can be a tedious and tiring task. The tiles, floors and corners of your home are all areas that get dirty easily and need to be cleaned time and time again. With an electric spin scrubber, these tasks will be made easy.
What is an electric spin scrubber?
An electric spin scrubber with a rotating brush head eliminates the need to clean surfaces manually. Moving with the help of a motor and simply providing a fresh shine, the electric spin scrubber makes light work of your chores and gives you a thoroughly cleaned home effortlessly.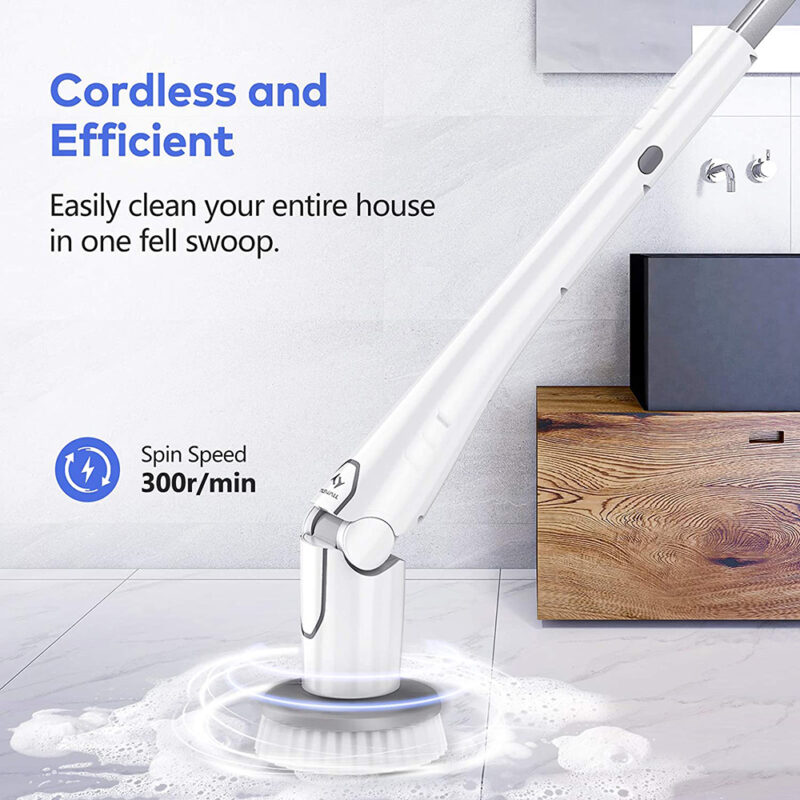 Uses of the electric spin scrubber
Electric spin scrubbers are used for everyday cleaning, which is more common in bathrooms, in addition to tiles, floors, furniture, and windows can be used. Even in the garden, electric spin scrubbers are suitable for outdoor use.

Types of electric spin scrubberes
There are two types of electric spin scrubbers: the rotary cleaning brush and the oscillating cleaning brush.
The rotary cleaning brush has a rotating brush head and extension bar and is suitable for cleaning stubborn stains.
The oscillating brush has a vibrating brush that oscillates over the surface, producing 5,500 ultrasonic vibrations per minute, but does not have an adjustable lever.
How to choose an electric spin scrubber
Attachments
The electric spin scrubber comes with a variety of brush heads, each with a different function for different scenarios. For example, the large brush head is used to clean large surfaces, the small brush head cleans corners and details, the rounded brush is suitable for bathtubs and the pointed brush removes dirt from corners and crevices.
Before buying, you need to pay attention to the model of the cleaning brush, the softness, hardness, and density of the brush will be different depending on the model.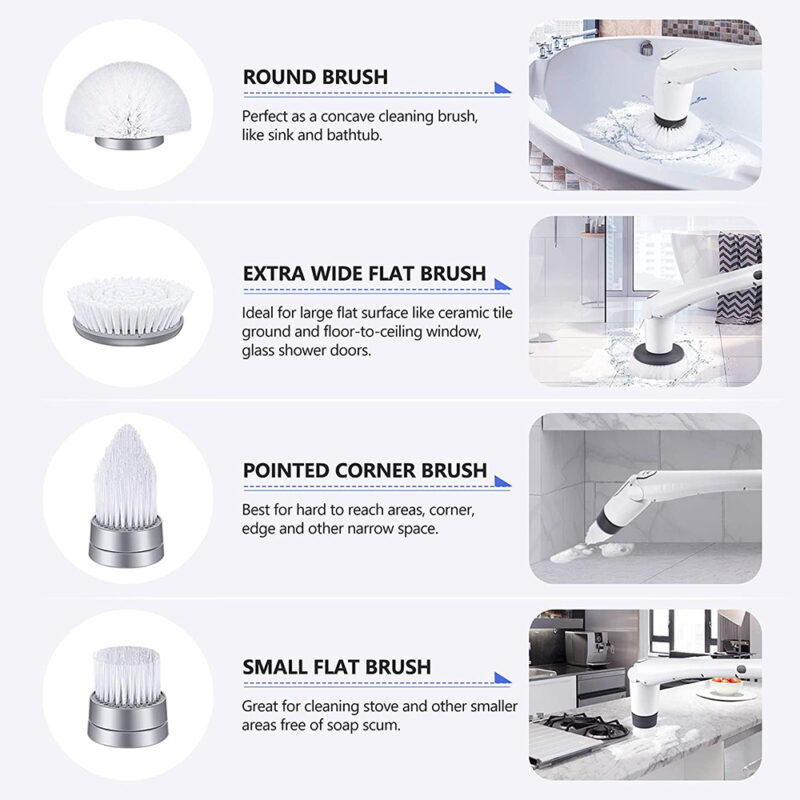 Battery life
As bathrooms usually do not have a ready-made power outlet, the electric spin scrubbers available on the market are cordless and come with a rechargeable battery, which varies in power.
Speed
Different models of electric spin scrubbers have different speeds, with the more powerful ones generally having a faster speed. For more efficient house cleaning, choose a brush with a speed of at least 300RPM.
Cleaning convenience
The weight and retractability of an electric spin scrubber affect the ease of working, and a lightweight and retractable brush head makes it easier to operate.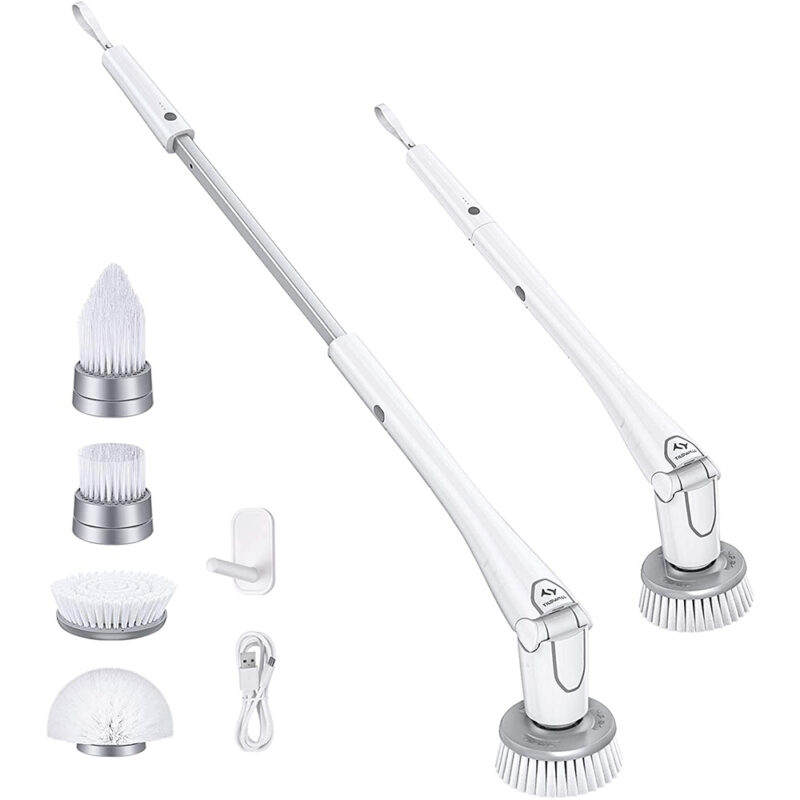 Tilswall includes a durable 4,000mAh battery in its electric rotary scrubber. It ensures that the unit can run for up to three hours on a full charge. The retractable brush head ensures that you can reach a variety of surfaces without having to bend them.
How do I use the electric household cleaning brush?
The electric spin scrubber is easy to use, just select the brush head, install it and turn the device on.
It is important not to use too much force on the surface to avoid damage.
How to maintain the electric spin scrubber?
Every time you finish using the electric spin scrubber you should clean the brush head thoroughly and keep the brush dry.
Some cleaning brushes are not waterproof and should avoid contact with water for a long time
Replace the brush head regularly to extend the life of the electric spin scrubber.
How often should I change the brush?
The frequency of replacing the brush head depends on the brand and model of the electric spin scrubber. Some cleaning brushes have a long service life and can be replaced once a year, while others need to be replaced once every one or two months. It also has to do with whether you take good care of your cleaning brush.
Conclusion
The above guide explains the uses, usage, and buying tips of electric spin scrubbers, so add it to your shopping cart and you will soon fall in love with this product.